Start a custom training program today.
Our fitness and nutrition programs will help you transform your body and mind! Get in shape and maintain a healthy lifestyle.
Sound good?  Reach out today and let's get going
That you can be healthy even if you're…
short on time
busy at work
stressed out
prone to injury
scared to start
on a budget
2. VISIT THE GYM AND MAKE A PLAN
3. START TRAINING AND BECOME THE BEST VERSION OF YOURSELF
Starting a new fitness program is intimidating. We'll help you find a program that's right for you.
Great for you if you like an extra push of the live class.
Great for you if you like to stick to a schedule and enjoy the live feedback and interaction of the instructor and others to keep you motivated!
Great for you if you want more options for class times and need the accountability of logging in at a specific time or you might not end up doing a class!
Great for you if you are really self-motivated and if you don't have a fixed schedule and need to be able to do a class when you have a spare moment!
The instructors had belief in my abilities (even when I didn't!) and it spurred me on to achieve more than I realised I could.
As a result, my body started to change- I lost fat, gained muscle and my cardiovascular fitness improved. People started commenting on how good I was looking. I felt stronger and more confident.
Katherine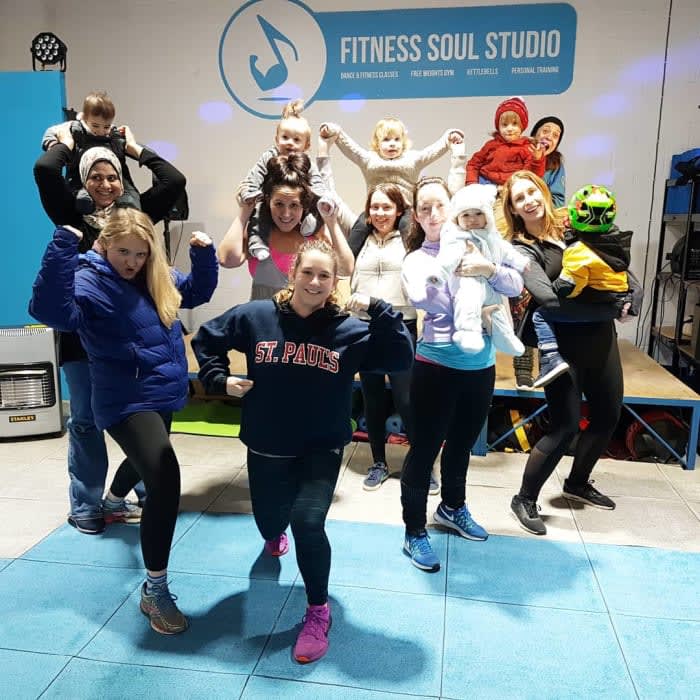 I have, like many others, convinced myself in the past that I have no strength and that I can't lift anything other than the smallest of weights but there was definitely a moment where I attempted a 50kg deadlift and said "I can't" and truly believed this to be true. Leszek took one look at me and said "I think you can" and you know what, I did. I have surpassed even my own expectations.
Grainne Dowds
Fitness Soul is unique in every sense of the word.
At first, you feel the premises are basic but then you realise that it's the people in it that drive you to your goals.
Leszek and Joanna are the craziest (good crazy) strongest, holistic, most encouraging and supportive team I've ever exercised with and I thank them for helping me love getting fit and strong again! 
Alex
I found dancing and working out help release all the negative emotions and switched my brain off from all the negative thoughts and for that 45mins/hour, it was just me and my body, nothing else. The endorphin high after helped push those negative thoughts and emotions even further away and helped them stay away for a few days.
Roz
Finally, we have Fitness Soul. With an incredible story in the About Us section of their website, of a couple who decided to start their own studio, there is an incredible amount of character to this gym! They believe not just in physical strength, but mental wellness and spiritual care, and have classes of all kinds. They also cater to mothers with the Fitmama classes. This is truly a gym to join if you want to become part of a community too!'
A Place Where Passion And Love Meets The Latest Scientifically Proven Fitness Regimes
If we haven't inspired you to already, we hope you can pop in to meet us and our wonderful team sometime soon.
Lots of Love
Joanna,  Leszek and Fitness Soul Team